Here you can find more information about our previous partners:
---
VDSI: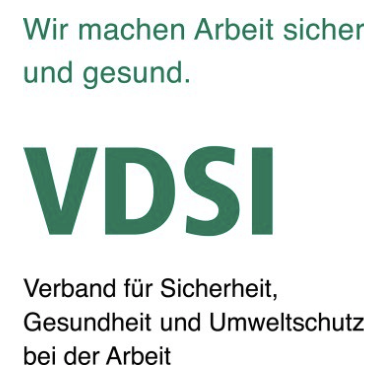 The VDSI is Germany's largest professional association for safety, health and environmental protection at work. Our approximately 5,600 members pursue the common goal of making the world of work safe and healthy. We want to sustainably reduce hazards and burdens for people and the environment. We are working to anchor these values permanently in people's behaviour. We are made up of experts from different fields and sectors: engineers, technicians, managers, doctors, psychologists, chemists, environmental officers and other professional groups who advise companies and employees on a daily basis. Together, we are a strong community that networks its knowledge and finds holistic solutions for practical applications.
Goals and tasks:
The VDSI is a non-profit, politically and economically independent association. We are committed to achieving our goals on a voluntary basis:
Plattform:
Wir bieten unseren Mitgliedern eine Plattform, auf der sie sich fachlich austauschen und vernetzen können – sowohl vor Ort, als auch bundesweit und mit internationalen Partnern.
Engagement:
Wir engagieren uns für eine fachgerechte Ausbildung und qualifizierte Weiterbildung in unseren Fachgebieten.
Occupational safety and health:
We participate in the development of laws, regulations, guidelines, standards and other general rules dealing with safety, health and environmental protection at work.
Cooperation:
We cooperate with national and international institutions and associations in order to represent the interests of our members, to further develop our areas of expertise and to expand our competences.
Contact:
We are the point of contact for all social groups on issues relating to safety, health and environmental protection at work.
VDSI in retrospect:
The VDSI was founded in Königswinter in 1951 as the Working Group of Safety Engineers. In 1954 it was renamed the Association of German Safety Engineers (VDSI). Due to the sharp increase in membership, a full-time office was set up in Wiesbaden in 1977. In 1980 the Association of Safety Engineers and Safety Masters (VSTM) gives up its independence and joins the VDSI. After the fall of the Berlin Wall, the dissolved Working Group for Occupational Safety of the Chamber of Technology of the former GDR recommends its members to join the VDSI. Since 1993, the VDSI has been called the Association of German Safety Engineers. The VDSI's areas of responsibility have also adapted to the demands of the times: in 1993, occupational health protection is included in the VDSI's objectives. In 1995, the VDSI founded the Gesellschaft für Qualität im Arbeitsschutz mbH (GQA). In 1997, environmental protection at the workplace was included in the Association's objectives. Following a majority decision by the members, the name was changed to "VDSI - Verband für Sicherheit, Gesundheit und Umweltschutz bei der Arbeit" (Association for Safety, Health and Environmental Protection at Work) in 2014. The new name underlines the opening of the association to all experts in occupational safety, health and environmental protection. The VDSI wants to reach new target groups in a targeted manner and align itself even more strongly on an interdisciplinary basis.
---
BME: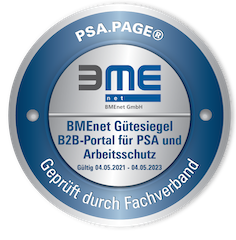 A strong community for purchasing, supply chain management and logistics
The German Association of Materials Management, Purchasing and Logistics (BME), founded in 1954. (BME) is the professional association for buyers, supply chain managers and logisticians in Germany and continental Europe. We see ourselves as a network partner for all industries and sectors: for example, industry, trade, public institutions or the financial sector. Our goals include the transfer of know-how through a constant exchange of experience, the training and further education of qualified personnel and scientific work on new methods, processes and techniques. In addition, the BME helps to open up new markets and shapes economic processes and global developments. Expressed in figures:
The BME looks back on a history spanning more than 60 years, during which its membership has grown to around 9,750 members (as of 31 December 2018) - from individuals to large companies. The volume of goods and services purchased by its members amounts to around 1.25 trillion euros annually. This corresponds to more than one third of the German gross domestic product.
38 regions create a network and organise about 400 meetings a year with expert lectures, discussions or company visits. More than 20 specialist groups develop future and practice-oriented concepts, which the BME makes available to its members and the professional public. 4 sections bundle the activities in different fields of activity. In addition to procurement categories, these include public procurement, logistics and service providers.
Since its foundation, the BME has been able to welcome around 500,000 participants in its education and training programmes. Around 1,000 events are organised each year at home and abroad by the association and its subsidiaries. They range from certified courses, seminars and management forums to large congresses. At the BME Symposium in Berlin, Europe's largest buyers' congress, well over 2,000 purchasing decision-makers, supply chain managers and logistics experts come together year after year for professional exchange and networking.